About Green Level Kennel
Our Background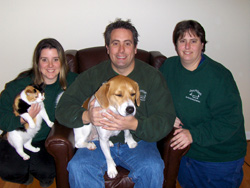 Taneal, Mark & Karen (left to right)
Our family considers ourselves very fortunate to work so closely with each other and to do a work that we all love. We enjoy taking care of your wonderful pets and getting to know their names and personalities during their stay. We all play a role, along with our carefully selected staff, in ensuring your pet gets the care they deserve while they are with us. We take pride in providing a positive experience for you and your pet while you are away from home.
Family owned and operated since the 1960s, Green Level Kennel was purchased by our family in 2003. The facility has gone through many upgrades through the years including a major renovation during 2006 and 2007. While many boarding facilities have flashy lobbies and exterior facades, we have focused our time, energy and finances on the parts of the facility that provide the best experience for your pet.
We have improved the dog and cat enclosures both cosmetically and functionally while providing them with ample room to feel as comfortable as possible. We also have fantastic play yards where your dog can interact with other dogs if you desire. We are very proud of the experience we can provide for your pet, and we hope your family member will feel at home with our family while you are away.
Our Affiliations
Founded in 1958, the Chamber has an engaged operating group, motivated volunteers and a dedicated professional staff poised to implement progressive programs that aid in the profitability of its members, build a better economic community, develop future leaders and enhance small business development and growth.